How to choose the wheeled school bag for your child?
The bags for schoolchildren exist in different forms and models. For this purpose, there is a wide range of choices for both adults and children. However, we should still be concerned about the bag quality, but also its characteristics so that it is adapted to its user.
For the back to school, we wonder which bag we should choose for his children. Indeed, between the recommendations of the doctor (with regard to the loads to be carried daily) and the amount of the school materials, we hesitate to choose the Ring binder that they will have to use during this school year, because there is a fear that it is not suitable for them. However, for young schoolchildren, the satchel with wheels would be more suitable, because it allows them in a certain way to unload the heaviness of their luggage.
As the name suggests, the satchel with wheels is equipped with wheels that allow it to be transported without having to support it as a backpack. Indeed, the schoolchildren generally need a fairly large number of school supplies, for this reason, the backpack becomes difficult to carry, especially if they are still small. As a result, it represents the best choice insofar as it will allow them not to suffer the weight of their luggage. In addition, the wheeled satchel is easy to carry from home to school. Just grab the rod and use it as a suitcase.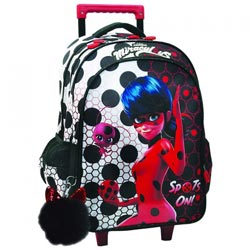 Your child's school bag on wheels: an ideal school bag for his schooling 
The days follow one another and although they are not always the same, over the weeks, your child gets up every morning to face a new school day... For us parents, we try to accompany them as best as possible during their schooling, helping them to do their homework, listening to them tell us about their days and also, to an important extent by allowing them to have an ideal school backpack, practical, which will not lack style.
Over the years that pass, far from the small kindergarten school bag with only the box to taste, your child's school bag fills more and more with belongings, notebooks, pens, sports belongings, textbooks of all kinds, to end up reaching a more than consequent weight. Faced with this, it is then the backs of our children who suffer, it is our children who must, all day long from one room to another, carry on their backs sometimes very tired, a bag of the heaviest, unless you opt for a much more practical solution: a wheeled satchel !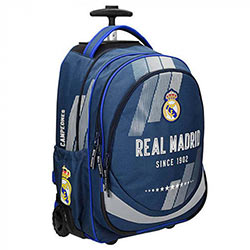 Increasingly heavy school bags for schoolchildren with back pain
If the back pain in children could until then be considered as exceptions, the figures reported by the Ministry of National Education and other health professionals of our children, our schoolchildren are today without appeal. Indeed, our children of all ages are more and more numerous to suffer from back problems of all kinds, when many parents concerned about the health of their schoolchildren push the doors of osteopathic practices in search of solutions to relieve the back pain of their children.
Obviously, it would be very simplistic to instill the idea that only the wearing of a backpack too busy is responsible for back pain, low back pain in children, when other factors such as fatigue, the practice of physical activity or other factors can come into account, nevertheless, by dwelling on the backpacks of our children, we quickly realize that they can cause such pain ...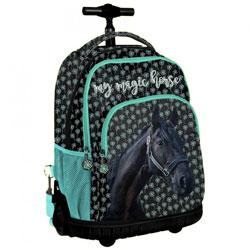 Back pain of schoolchildren, pay attention to their school bags!
In general, for a child to be able to bear a weight to carry, a load without it being detrimental to him, it is essential that the latter does not exceed 10% of his weight. Thus, for a child of about 30-40 kilos, the weight of the school bag should be between 3 and 4 kilos maximum. But the reality is quite different... Between the notebooks and binders relating to each subject followed during the day, a more than deserved snack for recess time, textbooks of all kinds and sometimes in addition to all this, a jog and a pair of sneakers for the hours of EPS, in other words that the weight of a school bag continues to climb on the scale to end up reaching a weight considered to be quite unreasonable for the health of our children.
Apart from this overweight, the phenomenon of back pain of our children following their long school days is also partly explained by a poor choice of school bag and even more by the way of wearing it. Indeed, by following a more than understandable fashion phenomenon, our children like to put their heavy bags on one shoulder or another, or to pull as much as possible on the straps to wear it as low as possible... So many bad habits that can cause very bad repercussions on the spine of the latter. Add to this, the choice of a school bag of questionable quality, which would not allow you to benefit from an ideal distribution of the weight to bear and you are faced with the extent of a problem increasingly noticed within the schools of the Hexagon and well beyond. The choice of a satchel with wheels seems to be most appreciable for your child. A look back at choosing a wheeled bag in order to guide you towards a model of the most adapted for the schooling of your child, so that he takes pleasure in pulling him on the way to school!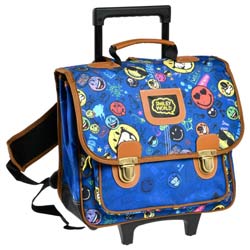 A wheel bag for our children, the positive points of a wheeled school bag
Available from kindergarten to college, the wheel bag has not ceased to be talked about for a few years, returning to the front of the stage, to the delight of small schoolchildren and older ones. Available in a multitude of colors, sizes, templates, the wheeled satchel provides a traction system designed and designed for schoolchildren, so that with the help of a retractable handle, they can be able to move their belongings throughout the school day without having to wear them, support them.
By dwelling on the different positive points offered by the use of a wheeled satchel, we then undoubtedly evoke the benefits brought to the health of our children, who will not have to bear, physically, the weight of a more than substantial school material. Thus, in elementary school especially, your child will be able to continue his growth, over the days without his back suffering from serious repercussions. In college, the days will then be much more pleasant, without having to carry a bag full of school books of all kinds when the risks of scoliosis and other low back pain will then be carefully avoided thanks to the wheel bag...
In addition, far from the backpacks of schoolchildren, students who are not very resistant, who are also subjected to harsh tests, whose straps inevitably always end up fighting, your child benefits, through his trolley, from a quality bag, designed and thought for a very appreciable durability, practical, ergonomic and which, moreover, certainly does not lack style!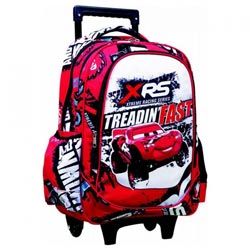 How to choose a wheeled bag for the upcoming school year?
If you want your child to be able to enjoy the many benefits of a wheel bag for the school year, here we help you choose the most suitable bag model, meeting the unique needs of your child.
The guarantees of a quality wheeled bag for a schoolboy
When you want to have a wheel bag as a schoolboy, it is necessary to take the time to select, down to the attention to detail, the wheeled satchel ideal, meeting your expectations and even more so those of your children. By hastily choosing a model of trolley without taking the time to check the guarantees, ergonomics and even more the resistance, you could quickly have to buy a model when the first one has given way in a hurry.
Today, to the delight of children and parents, the wheel bags no longer have anything to envy to the models of the past because of their specifications in order to allow resistance to all the tests (after a child does not always show delicacy, when we also know that a wheeled bag can be dragged on different supports ...). With this in mind, we can only advise you to move towards guaranteed wheeled satchels, whose resistance has been extensively tested and even more, approved!
What size wheeled binder should I choose for my child?
If the wheel bags are now available in a multitude of models, colors and sometimes take the air of heroes of little girls and boys, satchels with wheels are also available in different sizes, in order to be able to meet the expectations and needs of all students, from kindergarten to middle school, including elementary school; there are a wheel bag for all ages, all sizes, all needs!
- A wheeled school bag for elementary school : Models of wheeled school bags of about 38 centimeters are particularly suitable for students in elementary classes. The latter then have the size to accommodate the necessary equipment during a school day, when they are designed not to be too bulky and therefore not too heavy to pull on the way to school and in the corridors of the school.
- A wheeled school bag for the end of elementary school and entry to college : It is possible to opt for models of wheel bag of more than 40 centimeters specifically adapted to students from Cm1 to the entrance to the college and therefore allowing to have additional space to have binders and advantages of textbooks.
- A backpack on wheels for college schooling : If your child wants to be able to have a backpack, choosing to abandon the school bag probably considered too classic, it is quite possible to enjoy a wide choice of backpacks with wheels designed for the delight of teenagers... 
- A backpack with wheels for kindergarten : At the dawn of a schooling that begins, it is also possible to opt for a backpack on wheels specifically adapted to the morphology of the smallest who should not be reluctant to pull their backpacks with wheels to go and greet their comrades and mistresses...
The choice of a school bag on wheels, a school bag, it's also a matter of style!
Apart from containing the necessary for a busy school day, to be able to follow the courses, the choice of a backpack, a school bag actually responds to a completely different logic, to other needs, that of bringing to school, in front of friends and comrades a trendy school bagone wheeled bag that your child will be proud to shoot on the way to school, because fashion is particularly expressed in the playground...
By allowing you to choose, with your child, from a wide selection of wheeled bags for girlsfrom roulette satchels for boys, there is no doubt that on the day of the start of the school year, your schoolboy should be more than delighted to present his new bag to his friends, his girlfriends, as a real fashion accessory that everyone should not fail to envy.
A wide selection of wheeled school bags for girls!
The day of the start of the school year does not fail to be special for a little girl, more than eager to discover or find her girlfriends, those who will quickly become the confidants of tomorrow and perhaps even true friends.
For the pleasure of your little girl, your daughter, your teenager, we have selected through our different models, a wide range of wheeled school bags for girls, of all colors, all materials and when some little girls should be delighted to discover these trolleys with the effigy of their favorite heroines.
Over the years, for the pleasure of schoolgirls who rightly abandon a classic backpack to prefer a backpack with wheels, you will discover during your navigation many models of backpack with wheels for girls, one of which should satisfy your teenage girl...
A school bag with wheels for boys, with the effigy of their favorite heroes or in masculine tones 
For boys, the start of the school year does not fail to be an event, the time to enter the classroom, in the yard, to find or find his friends. The school bag remains an essential ingredient to enjoy the most beautiful of returns, to be able to meet the expectations of your child, your son.
To make the start of the school year as beautiful as possible, we accompany you throughout your requests, in the choice of the wheeled bag for boys which will quickly become the indispensable accessory of a pleasant and successful school year...
For the pleasure of boys of all ages, we allow you to enjoy a wide range of wheeled school bags for boys, among which is certainly the bag so hoped for your boy, your teenager, preparing to return to school ...
Is the wheeled school bag suitable for all ages and all cases?
Because we want to allow you to equip your children with the best for the school year about to start, we certainly could not ignore some objections to the use of a satchel with wheels.
Indeed, if you now know that it is essential to choose a bag on wheels good templates so that the latter is not too heavy to pull, you should also know that the choice of a wheel bag on the other hand, is not specifically adapted to children, to students carrying out their school years in an establishment with a multitude of stairs unless the child carries the wheeled bag on his back.
Indeed, for a satchel with wheels or of indisputable quality to cushion the shocks of the bearings on the stairs, the latter will have to be equipped with a traction system relatively heavy to carry – something for which its use is not designed.. As a result, repeatedly rolling a trolley from one floor to another can be particularly detrimental to the longevity of the model, so the child will need to carry the wheeled school bag on his back. It is still necessary that the weight of the wheeled school bag is not excessive because you will have understood, the first idea of a school bag on wheels is not to carry the belongings of schools too heavy.