Discover Smiley and her yellow smile
Do Smiley's characters amaze your children? It must be said that these round and yellow boils are now part of their world. It is not surprising that Smiley school supplies and equipment are at the top of the trend and they are available in our shop.
Smiley and his story
The very first Smiley is a work by a Frenchman named Franklin Loufrani who worked for France Soir. At the time, he wanted to launch an anti-morosity campaign. So he created this logo with his brilliant smile. He patented the logo in 1971, completely unaware that his work would be a great success 40 years later. His son, Nicolas Loufrani, discovered the commercial advantages of the famous logo. As the main heir, he decided to exploit it. He then created the first smiley face in 3D, in 1992.
Nicolas Loufrani now runs a large company called Smiley Company. The latter has created a rich catalogue of smileys. The advent of mobile phones and the Internet has contributed to the success of the yellow and round porridge. Indeed, the use of emojis has become commonplace. Smiley has become a real star and it symbolizes technological innovation.
Smiley and its variants
At first, Smiley was a round, yellow porridge with a friendly smile. Currently, the logo appears in various forms. It can highlight all kinds of emotions like joy, sadness, fear, still astonishment. That's why they're called emoticons. New characters appear over time. Be aware that a Smiley can practically change the meaning of a sentence.
The world of Smiley
Mr Loufrani's round, yellow porridge is the star of the modern communication world. But Smiley is also a brand exploited in different areas. Indeed, he appeared in a novel of the youth category published by Editis in 2017. A cartoon entitled "The Secret World of Emojis" was also released the same year.
Nicolas Loufrani and his team also continue to imagine other projects to develop the brand. Indeed, they are planning to create Smiley derivatives that will have to appeal to geeky customers and the urban population. To take this into account, the round and yellow porridge will continue to smile in the future. It has also inspired manufacturers of school supplies and equipment. It must be said that children and young people are now addicted to these logos with funny and attractive faces.
Smiley school supplies and supplies
Every school year, children expect to get new, trendy equipment. On the Toons Shop, we can satisfy them especially if they are Smiley fans. Indeed, we spread in our shelves a wide range of school equipment and supplies in the image of this logo. The quality of the products is assured as they have been selected from among the best. Check out our offers!
We have selected for your children, Smiley bags and bags chic and trendy. In addition, there is a wide range of choices. Indeed, there is for all tastes and all ages. For preschool and elementary school children, we offer wheeled school bags and wheeled backpacks decorated with all kinds of emojis. They come in different colours to name but blue, pink and mauve.
So you'll find the perfect binder, whether you're a parent of a girl or a boy. Backpacks of all colours and shapes are also available. They will delight the greatest, especially middle and high school students. In addition, there are models with a large volume. Don't forget the bag bags that stand out for their practicality and the rigid bags designed to transport fragile objects.
To store pens and pencils, you will also find in our shop a rich catalogue of Smiley kit. What shape seduces you? The choice is wide. Models with 3 compartments are among the most attractive. In addition, they display sublime shades and have beautiful patterns. These kits will add a touch of cheerfulness to your child, which could also maximize motivation.
For the next holiday, also opt for Smiley suitcases. You will find them in different models at our shop. Of course, they stand out for their authentic colour and the beautiful images that decorate them. They highlight the beautiful adventure that awaits you.
To supplement your child's school supplies, don't forget to offer a child Smiley binder. It is adorned with all kinds of emoticons. Some have a nice smile while others have a funny face.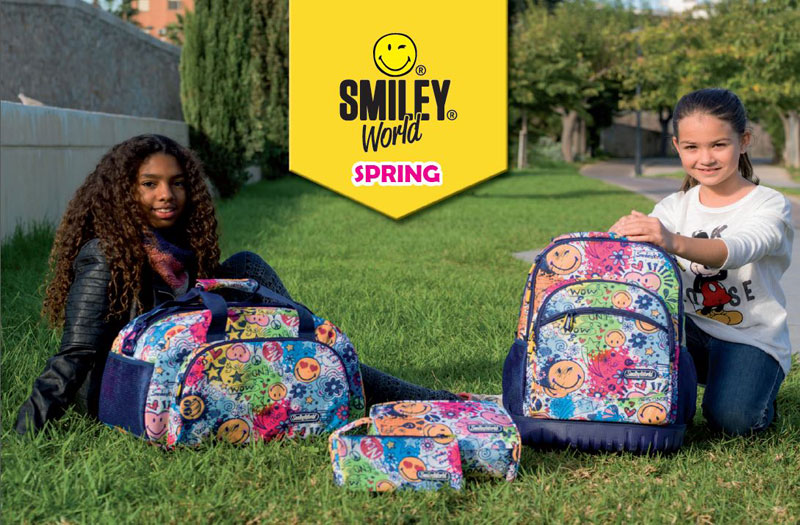 If you like Smiley products,